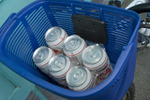 Posts: 7657
Joined: Feb. 15, 2005
Jeez I live right in Dodge and don't get that vibe at all. Any new people myself or anyone I know in Dodge run into get a warm welcome and any trail directions they might need. Most locals I know don't want that kind of reputation at all and strive towards community building.
You obviously missed the UROC AGM….
(and you're a total hipster insider there J!!)
I have 21,474,850 rep points...
My blog - read it!