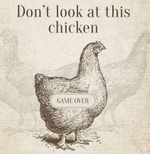 Posts: 2235
Joined: Nov. 23, 2002
Lately I've been listening to CBC Radio 1 a lot, in fact it's what I've been playing on my reno jobs. In the past few weeks there have been a bunch of climate change related programs. Just the other day there was a news story about Red Cedar die-offs here in BC and tonight there was a cool show about Canopy Science - the science of tree canopies, particularly in the tropical rain forests. All of this got me thinking about how so many issues are inter-related when it comes to climate change and the idea of the cascade effect and the tipping point. In short I think we're already fucked even though we may have not hit the proverbial tipping point yet. The reason being is that the amount of change in our lifestyles we humans would have to achieve on a global scale in order to steer us away from the tipping point or cascade effect is simply not possible anymore. We're just too fucking greedy and stupid to be able to do it. There was a show a couple nights ago that touched on this in terms of what's needed. You and I doing are good deeds in out little lives is essentially pointless and meaningless when it comes to affecting climate change. While reducing our carbon footprint on a global scale, a few people here and there makes about as much difference as pouring a cup of fresh water into English Bay would have on affecting the salinity of the oceans.
I'm old enough that I will probably be dead or very close to it when the shitstorm begins. I don't have any kids to worry about, but I do have a couple of young nieces and I wonder what their future is going to be like. When I hear some of this news I want to hang my head in shame, at what mainly Western Society has done in terms of pillaging and destroying heaven, the place we happen to live which is more commonly called earth. There's even been a few occasions where I actually break down and weep a little at just how destructive we've been and that unless there is MASSIVE change withing a few years, the party is all but over. It makes me think about what it will actually take for governments across the globe to take this shit super seriously. It's mind boggling that we can't seem to get our collective shit together enough so that we have a habitable place to live.
link to cedar die off
https://www.cbc.ca/news/canada/british-columbia/western-red-cedars-death-dry-climate-change-1.5134262
Opinion is the lowest form of intelligence. It requires no accountability, no understanding.
The highest form of knowledge is empathy, for it requires us to suspend our egos and live
in another's world. ~ Bill Bullard
Last edited by:
syncro
on May 20, 2019, 10:51 p.m., edited 1 time in total.