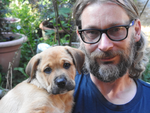 Posts: 8282
Joined: Nov. 20, 2002
Arm's Reach Bistro is really good, and reasonably priced. Gusto di Quattro is also nice, but a little less casual maybe.
The Jamaican place is Kingston II, quite good, but very casual.
Well, well I been movin' down to Florida.
And I'm gonna bowl me a perfect game.
Well I'm gonna cut off my leg down in Florida, child.
And I'm gonna dance one-legged off in the rain.