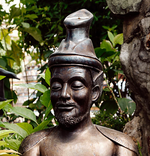 Posts: 73
Joined: Dec. 1, 2008
meh … I just finished watching all seasons of BSG and it definitely wasn't a great show. Perhaps after watching Dexter, The Wire, Lost … my standards are too high.
Sounds like a pure matter of taste to me.
Abandoned Dexter after a few episodes, because while it is kinda innovative, it felt akwardly staged.
And Losts logic holes and dialogue seemed so cheesy that i couldn't bring myself to finish the first season.
BSG on the other hand was nice, mainly because the people behaved believably and it created tons of atmosphere. Plus, it had the "extraterrestrial colony" also known as vancouver public library. :D