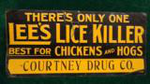 Posts: 1704
Joined: May 23, 2006
…on a new road bike.
Full carbon but the only question that remains is to disc or not to disc.
I see Giant has fully committed in the coming year. How long until caliper brakes go the way of the Dodo?
".....with a malevolent fascist swine atop its titular apex, the pitiful wounded beast of a rotten, spiritually dead American Superpower is careening towards epic barbarism while pushing the species dangerously to the tipping points of extinction."
Last edited by:
tungsten
on July 10, 2017, 12:37 p.m., edited 2 times in total.