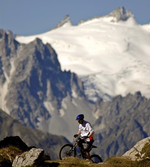 Posts: 1769
Joined: Nov. 23, 2002
I will have a look at those link a bit later and yes the main reason I saw no benefit was likely because the winter weights effectively postponed the start of my cardio season. With that in mind it feels like all advice to cyclists regarding lifting should be prefaced with add lifting to your routine either in the off season or once you can no longer fit in more cycling.
with any type of training you've got three important variables to consider
1. frequency - how often you do something
2. intensity - how difficulty or strenuous the activity is
3. volume - the amount of work you do in a single training session
how those variable are managed will have a huge impact on the success of your workout. i often encourage people to look at making their training sessions as efficient as possible, so for someone like yourself, even consider 10-15 minute workouts that you could do at home or at work.
With a five month old I cant do both right now so weights have been shelved until the fall hunting season which I think weights will complement nicely.

A side note the best thing to come from my stint in lifting was learning the importance of recovery. Adding 5lbs to my squat every day meant I needed full recovery and had to cut out a lot of the junk miles. Now that I have kept that change to my routine I am actually seeing pretty good gains on the running and cycling with fewer hours just by making sure I am properly recovered before I go out and hammer again.
awesome, so you have learned the value of the training variables i listed above. to keep your strenght training effective though you don't have to go to the gym. things like doing one or two sets body weigth squats per day will have a big benefit and cost you very little time. if you want/need more of a challenge, do pistol squats instead of regular squats. your time investment is next to nothing and the relative payback is huge. if you really want to step it up, every 30min at work get up from the desk and do 1 set of around 10 squats.
Luck is what happens when preparation meets opportunity ~ Seneca