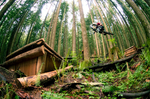 Posts: 1970
Joined: Jan. 5, 2010
Posted by: syncro

What do you currently do as a warm-up? I get people to do  7-10 minutes on the rowing machine as a general warm-up before hitting the weights. The rower is very effective as a warm-up b/c it provides a large range of movement that gets all your joints involved. 

In terms of shoulders b/c you mentioned body building I'm going to guess you were doing a lot of push or anterior movements and not a lot of pull or anterior movements. If you were using poor technique on certain exercises that could also add to your shoulder issues. Using good technique in a balanced program there's typically no reason as to why you should run into shoulder issues. 

What did your old program look like?
My original warmup was treadmill and static shoulder stretches, but was reduced to a light set of whatever workout I was doing. Workout plan I started with what follows, 6-7 days a week:
Back:
Chin-ups
Close-grip lat pull-downs
One-arm dumbbell rows
Seated rows
Deadlifts
Triceps:
Seated dumbbell triceps extensions
Push-downs
Reverse push-downs
Shoulders:
Seated dumbbell presses
Bent-over lateral raises
Lateral dumbbell raises
Alternate front arm raises
Upright rows
Barbell shrugs
Legs:
Squats
Lying leg curls
Standing calf raises
Chest:
Incline dumbbell presses
Bench presses
Dumbbell flys
Decline presses
Dumbbell pullovers
Biceps:
Narrow grip barbell curls
Dumbbell curls
Hammer curls
Reverse curls
Reverse wrist curls
Wrist curls