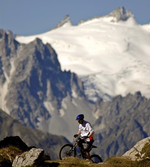 Posts: 1612
Joined: Nov. 23, 2002
My wife is starting to read one book after the other on sugars, starches, wheat, and the like.
Most of the readers of this thread know most important things about sugars and starches and how we are all fooled by the food industry, the governments (same in Germany as in the US, recommended healthy diet is based on Carbs…) and most doctors.

Currently we are on the road to a modified Paleo Diet in which our only carbs come from veggies and fruits, along with fibers and protein.
sounds like a good idea and i'm curious to hear what you think a paleo diet should look like. depending on where one lives, what makes up a paleo diet or a local/natural diet can look very different - ie living in the tropics vs living in the north.
wrt carbs, i think it's easy to underestimate the amount of carbs we can get from veggies and fruits. also, don't necessarily count rice or other "grains" like quinoa (quinoa is a seed) out either.
Luck is what happens when preparation meets opportunity ~ Seneca