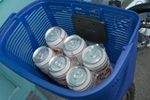 Posts: 0
Joined: Sept. 20, 2006
I've got issues with heel rub so that 148mm rear end did not make sense to me in that regard.
Wheel weight and stiffness:
The added weight, let's say 20grams, from a wider hub could be put into a 142mm hub to increase the flange diameters netting the same wheel stiffness benefit. Offset rims can improve spoke angles. Shorter spokes are slightly (very small weight savings) lighter.
The real benefit that can't be argued is the chainstay length and front derailleur clearance at the tire.
Chainstay length can be quite short if the wheel path is vertical but this can pose other compromises in anti-squat and anti-rise characteristics.
FD clearance is a huge bonus. 1x and side-swing FDs fix this problem but those technologies are still on the expensive side of bike spec.
Last, drivetrain clearance for bigger tires. The odd thing is the BB or the crankset q factor aren't changing so heel rub rears its ugly head again.
It will be interesting to see how the product landscape will change in the next couple of years.