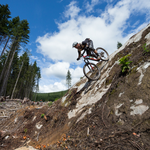 Posts: 2273
Joined: Nov. 22, 2002
DHF front and rear has been a real popular choice for eons.

I'm hearing good things about the DHR II front and rear these days, no personal experience though.
Quite a few people I know like to run it front and rear - and some companies like SC spec it that way, too. Funny enough, I've also seen a few companies spec DHF front and rear, but it hasn't been as popular as DHR II on both ends.
Personally, I don't find DHR II gives enough directional control up front on steeps in loam or loose conditions. Out back I like it. Not super durable, but then again I'm also a High Roller fan and that tire wears crazy fast.