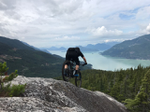 Posts: 96
Joined: Feb. 13, 2018
I have Light Action ReMote levers on 2 bikes. I've found them to be the easiest to set up in the right position and best functioning dropper levers if you want to integrate with your brakes (I have the Magura version).
On Friday, in an awkward crash, I broke the part that clamps to the brake lever / master cylinder around the handlebar but the actual lever seemed to be fine. I thought I was stuck buying a whole new ReMote assembly. Not so fast. Wolf Tooth sells ReMote replacement parts so I was able to just buy the specific part that broke (for way less money) instead of a whole new lever assembly. Amazing. And, also amazing, I ordered the part I needed yesterday and it shipped today.
So, props to Wolf Tooth for ease of service / availability of replacement parts (and lightning fast turnaround).
Last edited by:
Bushpilot
on July 12, 2021, 1:47 p.m., edited 1 time in total.