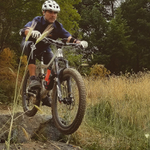 Posts: 1155
Joined: Sept. 10, 2012
Posted by: mrbrett

I thought I would weigh in on Tannus tubeless, and they're great so far. Lightweight, good support, not bad to install, and importantly fairly affordable. 

I like them. Would buy again.
Yes. So far the Tannus tubeless I have in the rear of my hardtail has been a pleasant surprise. I haven't rushed to install the 2nd one in the front tire, but I am enjoying being able to ride that rear much harder than I have in the past with no issues from pinch flats or rim dings.