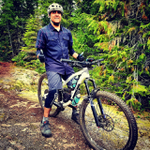 Posts: 837
Joined: Sept. 10, 2012
Posted by: thaaad

I accidental rode my cushcore with 9 PSI in the front and 14 in the rear last weekend in the pouring rain and it was honestly fucking awesome.

Granted I only rode like 35 minutes of easy blues,  but it still felt amazing ha ha.
Nice. When we had snow on the ground here I didn't bother checking my air pressure in my rear tire equipped with Tannus Tubeless on my hardtail. I tend to lose a bit of air between rides so I was probably down around 12 psi in a Maxxis 2.6" tire under my 185lbs + gear. It rode with no issue. I felt some impacts squish the tire to the rim...but there was no clunk of a hard contact and no rim ding or flat to deal with and traction was great. Snow riding meant not unleashing my full fury, but nice to see how the insert performed when things got lower than my usual 17-18psi riding pressure.