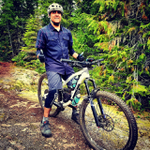 Posts: 833
Joined: Sept. 10, 2012
Posted by: rwalters

After my first few rides, I am super impressed with the Tannus. 
I'm still in the figuring it out phase with a Tannus insert in the rear of my hardtail. Since I am new to inserts and that's a totally new bike to me it's harder to tease out the differences to my non-insert experiences. I'm past the "I might hate it!" part of the test and now just pondering if this is a long-term addition to the bike and if I want to try another insert on the front or on another bike. Given how often I got flats without an insert [not often] the Tannus seems to strike the right balance of weight, install hassle and performance if I am going to run an insert.
I do still carry a tube, inserts and a small pump on every ride. It's been so many years since I have needed to install a tube in my own I can't remember the last time, but I guess I am too much of a boy scout to leave it at home. Besides I end up fixing other people's bikes enough that having a tube to give away so they get rolling is worth it.
FWIW - Cam talks about the dual air chamber effect in his review here on NSMB and it seems like that would be a benefit of these inserts. 
https://nsmb.com/articles/tannus-armour-tubeless-inserts-tested/
I was an insert skeptic so if I end up keeping the Tannus inserts long-term or GASP! putting them in other wheels/bikes that'll say something. ;-)