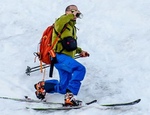 Posts: 35
Joined: Feb. 24, 2017
Posted by: D_C_

What pressure are you running.

CushCore + 22 psi in the rear feels similar to awesome suspension, where small bumps all but disappear.
I was using the pump in my truck to finalize pressure, so it's accuracy is +/- 5 psi (ha).  I was aiming for 22 psi, but I was largely measuring by the squeeze and guess method.  I'll need to play around with it and actually put a pump on that's accurate.