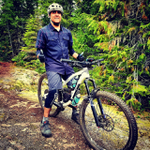 Posts: 604
Joined: Sept. 10, 2012
Posted by: WeTYC...

Vik, is the back side of the SmartFlex on the G-Form totally smooth, or does it have any channels in it to maybe allow a little air movement between the sleeve and pad?
So I've currently just got these G-Form pads: https://www.jensonusa.com/G-Form-Elite-Knee-Shin-Guards
I haven't bought any other G-Forms yet although I plan to. The pad material feels smooth on these at the rear side of the pad. They do have some ventilation holes on the shin area to let air through. I wear them for all day rides with no issues in the cooler parts of the year. I have not worn them in the summer here in Coastal BC. My friends do where the smaller G-Form pads all summer and I have not heard about any issues with heat build up or lack of ventilation being an issue. So I expect they'll be fine, but I won't know until I get a set.
I'll buy the "rugged" version next: https://www.jensonusa.com/G-Form-Pro-Rugged-Knee-Guards
These use different pad materials so not sure how the rear of the pad differs. I'll post something here when I get them.