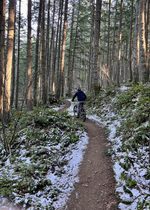 Posts: 247
Joined: Dec. 19, 2010
My lovely wife surprised me with a Topeak pressure gauge and a Crank Bros M19 multi-tool. 
Bought my 8 yr old boy a '21 Norco Fluid 2 FS. It's a 24". We did a loop yesterday and he was so stoked. 
Re: brakes - I've been using Codes for a year now. Zero issues and great feel. My XT probably had more power but EFF that wandering bite point. It was a deal breaker. I have read good reviews thus far wrt Deore brakes. Here's hoping Shimano have resolved the issue. The new Deore kit is a big win for performance on budget.