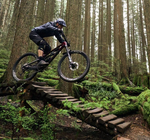 Posts: 760
Joined: June 17, 2016
I also prefer the "Vik procedure" but when you live in an apartment and have to carry the bike through common areas in the building and into your apartment it's not always a viable method.
I think locale and type of dirt makes a lot of difference too. Here on the Shore we don't have that much dirt to begin. I see mostly duff and some coarse grained dirt stuck to my bike. I haven't had any issues with dirt killing bearings here. All issues with premature bearing wear I've had here had to do with poor tolerances, poor frame alignment, flexy linkages etc.
In some other places I've lived the dirt was very fine and would easily get into bearings and eat them up from inside. I once did an extremely wet 8h race in Northern California and almost every single bearing on the bike was toast afterwards. Pivot bearings, headset, bottom bracket. The only bearings that survived that day were the DT hub bearings! Used them for another 3 or 4 years and they were still good when I sold those wheels.
Last edited by:
niels@nsmb.com
on July 30, 2022, 9:31 a.m., edited 1 time in total.