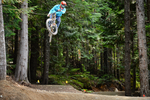 Posts: 2882
Joined: Nov. 27, 1986
So I was curious if anyone here could recommend someone or some place that could repair my cracked rear triangle.
A welder and able to heat treat it after to get it back to T6 strength?
Both chainstays are almost cracked all the way threw now, just before the weld…
Warranty is up now.
Thank you.