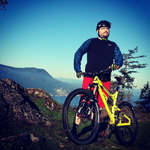 Posts: 9198
Joined: Nov. 19, 2002
Posted by: Hepcat

Formula? Cheap & reportedly good performance.

Those with Magura how's the caliper rub and ease of a perfect bleed these days? I loved my old Maguras but I'm really appreciating Shimano's rub free rotors and 5 minute bleeds. Somewhat inconsistent levers being the trade-off.

Seems every brake has some little niggle.
No rotor rub, and I bought some cheap bleed kit online...super easy.