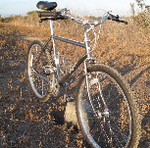 Posts: 2036
Joined: Nov. 8, 2003
Specifically do 29" tires take lower psi than 27.5" for equivalent feel?
23psi, 26psi I have determined as my perfect psi on the 27.5 all-mountain bike for fast-ish enduro-y riding. (190lb rider, E13 front, DD Schwalbe rear).
New to the 29er game and haven't pinned down 29" pressures yet. Does one typically go down in pressure for 29 vs 27.5 as they are larger volume?
Sorta feeling like 21, 24 feels right on my gingerly ridden short travel 29er with Maxxis EXO tires, but man that seems low...
Last edited by:
Hepcat
on Feb. 9, 2020, 4:57 p.m., edited 1 time in total.