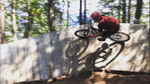 Posts: 6
Joined: March 13, 2008
I'm looking to finally replace my old dakine nomad and I'm looking for advice. I've been overdue for some time, but seeing as how I rarely ride with a pack on typical shore rides and park days, I've put it off for as long as I can. Still, I use one for longer Squamish days, and for road trips - long days riding in Nelson, Chilcotins, etc.
I'm looking for something large enough for an epic day ride, but not too big, heavy, or cumbersome. Probably something slightly larger than my old nomad.
I've looked at the evoc roamer and osprey syncro, but I'm open to all suggestions.
Thanks.