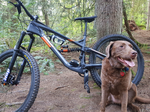 Posts: 84
Joined: March 28, 2012
Hey all,
I am shopping for a roof rack system for my 2005 325i. After speaking with the guys at Rack Attack I was advised that they could fit on the Thule 460R Rapid Podium Feet. However, the Thule online fit guide states that only the older Thule 753 rack will work.
I'm trying to put together a package and order from ORS, but don't want to end up with a foot pack that doesn't fit right.
Anyone out there driving an older BMW 3 series (1999-05) with Thules modern rack system?
Cheers,
Adrian
"Constant rage: could people f*cking up all the time be to blame?" - The Onion