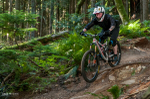 Posts: 2408
Joined: Sept. 5, 2012
I am 6ft and have a 36.5inch inseam.

I rode the large (brother in laws bike) with the stock 60mm stem. JeffsY AL

With the 150mm Reverb the 480mm seattube is sufficient for me. I'd need a 80mm stem though on the large. No-Go.

The XL would work for me with a 150mm dropper, not with a 170mm post though.

I'd triple check seattube length and maximum insertion on the XL at your height!!!

Reach wise the XL would be an option, long seattube though.

Weight distribution is great. It feels lighter than it is. The carbon ones are probably really snappy.

No possibility to test-ride in Canada?
how do you think the bike would feel with a 160mm travel fork ?? there is a store is Squamish now for YT you have to call ahead for an appointment to check out the bikes .