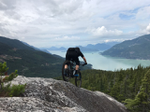 Posts: 111
Joined: Feb. 13, 2018
I've been using Cushcore Pro for 3 years. Have installed and removed them more times than you can shake a stick at and am on my 2nd or 3rd set. I also used Cushcore XC on one wheelset for a while. I'm very comfortable installing these things and the installs go according to plan and turn out well pretty much every single time. Occasionally I get a small wobble post-Cushcore install, which I can easily remedy by breaking the bead seal, wetting the bead area with soapy water and hitting it with my compressor. Problem solved pretty much every time. 
I've also been using Tannus Tubeless for about 1.5 years. I have 2 problems with the Tannus Tubeless that I pretty much never get with Cushcore.
Problem 1: I get a wobble after mounting Tannus Tubeless waaaaaay too often. What seems like at least 50% of the time I do get the wobble, my usual break the bead seal, lube it up and hit it with the compressor again doesn't fix the issue (nor does massaging / wrangling the insert back and forth by hand). When I can't get the wobble to go away, I'll typically re-mount the tire without the insert just to make sure it isn't the tire causing the problem. I'm having this issue now and am certain it isn't a wonky tire / stretched casing. Anyone else experience this problem with Tannus Tubeless? I can't figure out why I'm not having this problem with other inserts.
Problem 2: Another thing that only happens to me with Tannus Tubeless is that the insert blocks the valve (using regular valves, not the Cushcore style ones drilled on the sides). I go to let some air out of the tires and nothing happens because the insert has somehow moved and blocked the opening. It isn't a sealant issue and the quick fix is the remove the valve core and jam a 3mm allen key up the valve to push the insert out of the way to let the air out. Anyone else notice that this is a recurring issue with the Tannus Tubeless insert design? I'll try using Cuschcore valves to see if that improves things but Tannus is pretty clear in their manuals that special valves aren't necessary.
FWIW rims are all 30mm internal. 
Is it just me?