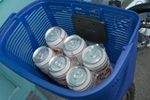 Posts: 0
Joined: Sept. 20, 2006
Also the 157 hubs that never spread out their flange dimensions was just lazy. Why did these guys hold on narrow flanges on a 150 hub?
Symmetrical bracing angle is stronger than asymmetrical. 150/157 DH hubs were designed like this for a reason. Some rim manufacturers offer offset spoke drilling to keep the spoke bracing angles more symmetrical with 135/142/148.
For proper q-factor numbers (the PB article seems incomplete) here's the RF PDF. I don't know where the q-factor range is coming from because the only way to change q-factor on the RF cranks is to change the spindle. If the RXC Aeffect crankset is being used, which features the 173mm q-factor, then I'd be interested in seeing what the heel rub is like on that bike. Even with the XCP (182mm q-factor) spindle, it might still be dicey.