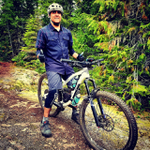 Posts: 567
Joined: Sept. 10, 2012
I killed my 3 day old Shimano 11 speed derailleur mid-bike tour last summer with an unfortunately timed rock impact. After pushing/coasting my bike about 20-30K to a LBS on the island it turns out there was a miscommunication when I called and they didn't have a replacement Shimano derailleur after all. **sigh** But, being helpful folks they figured out that they could replace the derailleur, shifter and chain with with SRAM 11 speed bits they did have.
My drivetrain on that bike is:
- Hope Pro 4 rear hub with HG driver
- Shimano XT 11-46T cassette
- SRAM GX 11 speed derailleur
- SRAM NX shifter
- RF crank and ring
- SRAM chain
This unholy alliance of parts works just fine. I'm not a shift snob so as long as the I can pedal the bike and shifts happen without drama I'm happy. I'll keep riding the bike like this until I wear stuff out or a kill more parts.
OTOH I like uniformity enough that if I was shopping for a new drivetrain I'd just buy all Shimano 11 speed unless COVID supply chain issues forced my hand.
Last edited by:
Vikb
on Jan. 8, 2021, 5:17 a.m., edited 3 times in total.