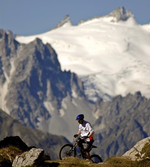 Posts: 1640
Joined: Nov. 23, 2002
Posted by: ReductiMat

Posted by: Mike-E

Great info everyone.  I splurge and bought myself a tensiometer.  If you use one,what tension reading should I be aiming for?

Did you drop large on a DT Swiss one?

If you bought a Park one like me, use it as a relative measure and find what works for you, your spokes, your rim and your riding style.

My riding is fast and I'm not that good so my wheels see a lot of square edges. I found a decent equilibrium between losing all tension in all spokes immediately and breaking spokes every ride.
if you want to geek out on spoke tensioning....