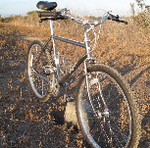 Posts: 2046
Joined: Nov. 8, 2003
Um, whatever input really.
How's the seat angle? (I would go 90° if no one was watching). Yours come with a climb switch? (Tough to tell if this one does, I love switches). How tall are you and are you built like an orangutan or a T-Rex? (I'm 5'10", orangutan leanings, thinking S3). Should I even buy from a company that tried so hard early on to ram e-bikes down mountain bikers throats? Am I missing something glaring in the spec? (I'll probably change out to the Charger 3 damper at some point during an oil change).
I'm looking at the Comp.
https://www.specialized.com/ca/en/enduro-comp/p/200513?color=336307-200513
Cheers
---------------------
Currently squinting skeptically at that RockShox Super Deluxe Coil Select Plus trying to see if it's the one (there's two models) that comes with a climb switch.
Last edited by:
Hepcat
on April 2, 2023, 9:48 a.m., edited 4 times in total.