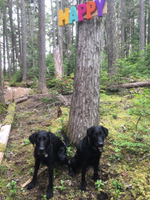 Posts: 564
Joined: Feb. 24, 2017
I traded the 29er rear wheel on my chameleon hard tail for the 27.5 wheel from my other bike. Tires are 2.5 SE5 on the small wheel and 2.5 SE6 on the big wheel. Both rims 30mm inner. Same cornering knobs. The smaller wheel does lower the back end by about 2 cm so the head and seat tube angle slacken a touch. I rode a short loop of about 20 minutes with some easy rolling to start, a short climb and intermediate flow type trail with lots of corners and small jumps. I tried to concentrate on cornering and rolling speed. If there's a difference it's pretty subtle to me. Based on this pretty limited test, I wouldn't base a bike purchase on whether or not a bike is a mullet or not. I can see a mullet for extra butt clearance as I do scrub occasionally with any bike. My legs are 31 inseam in bare feet. But that's not a big deal for me.
I tried this earlier in the season but one wheel had an old cassette which started skipping with the new chain on the Chameleon, so I couldn't complete the trial properly. 
Has anyone else done a similar experiment and if so, what did you think?
Last edited by:
andy-eunson
on Sept. 23, 2022, 12:06 p.m., edited 2 times in total.