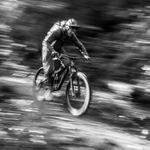 Posts: 8599
Joined: Nov. 15, 2002
I just did a rebuild with Jeff at Bikeroom on a set of XTR 9100 hubs and before I publish my article I wanted to hear some opinions from the big brains in here. And the small ones actually. 
Do cup and cone hubs scare you? Do you love cartridge bearings? Do you run Chris King to get the best of both worlds? 
Personally I'm a bit of a traditionalist so I appreciate them from that perspective and I like the user serviceability without special tools, aside from 22mm cone wrenches. I also like never worrying about my hubs getting destroyed because of a lack of maintenance which tilts me toward cartridge bearings. 
I'll add a poll question.