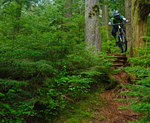 Posts: 43
Joined: Aug. 1, 2019
I'm almost surprised I haven't seen more local discussion about this. Maybe I'm hopelessly incompetent when it comes to setting up my brakes, but it seems to be a very common problem on the shore - especially in the colder, wetter months. Riders I know just seem to live with it and expect it to be the norm these days. With bikes getting bigger, heavier and faster (and with bigger wheels), brakes have necessarily gotten more powerful. My new 29er needs all the braking power it can get, so I'm running Code RSC's with 220mm rotors (and yes, I do feel I need the 220mm rotors. I started on 200s, and was surprised to find that I definitely needed more power at the front. Maybe the 220 in the back is a bit overkill). My old 27.5 bike also experienced brake scream when they were cold and wet, but the new bike with bigger rotors is definitely worse. I've done every tip and trick in the book - rotors and pads cleaned with brake cleaner and/or alcohol (I can pretty much rule out any kind of contamination). I have my calipers pretty much lined up dead-centre with the rotors (this seems to be the most common suggestion online to fix howling brakes). All mounting bolts are tight, and loctited. I'm running metallic pads (I've tried both Sram pads and "off-brand" pads). Bike is a 2021 Specialized Enduro with a Zeb Ultimate. Wheels are Nobl TR37s.
I suspected that my howling brake dramas may have been related to the stiff carbon wheels I've been running - but I see buddies on aluminum rims with the exact same problems. And Shimano, Sram, it doesn't seems to matter - they all scream.
After they warm up and dry off, the howling usually goes away. But as you can imagine in the winter months, the brakes don't get a lot of opportunity to dry off.
Anyone have any tips or tricks? Would it make sense to try resin pads over the winter months? How about using 1 metallic and 1 resin pad in each caliper (I've heard of WC guys doing this - seems a bit desperate)? Does anyone have experience with another brake brand that is far better at keeping quiet compared to Sram or Shimano (while still offering the same power)? Curious to hear other riders on the shore with their experiences.
With all the dubious new standards coming out, maybe it's time the bike industry tried coming up with a more robust brake mount interface. My hunch is that while bikes have gotten stiffer, heavier, bigger, etc, and brakes have gotten more powerful - the mount is now the weak point in the system, and hasn't kept up with increasing demands.