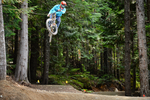 Posts: 2882
Joined: Nov. 27, 1986
So im curious to know if I could run a FOX DHX RC4 rear shock from a transition tr250 on my santa cruz Driver8. The website says the tr250 has a 8.5"x2.5" shock. Thing is on the shock its self the spring says 500x2.80. Could I run this?
Also im able to aquire a Marz Roco TST R rear shock. Its 8.5"x2.5" im pretty sure. These any good and would this work on my bike?
So im pretty much asking you all if any of these shocks have the ability to work on my bike and if they would work well.
Im currently using eather my Fox DHX5 Air and RockShox Vivid rc2. Should I just stick with these?
Last question,
well I really enjoy my driver8. I guess its pretty much a v10 with less travel. Its great for fast dh style trails and gnarly stuff but when it comes to jumping and being quick it seems sluggish in many ways. Not as quick and poppy as i would like. This bike is pretty much designed to be fast and stay glued to the trail right?
Well heres my question. How would a transition tr250 compair to a santa cruz driver 8? Would the tr be more poppy, nimble and quick to throw around? I love the slack headangle on it and it feels so super plush. The tr is also a more updated design. Since im just not so up to date with all the lastest tech these days would i be all around happier and better off switching to a tr?
Anyone here gone from a driver8 to a tr? Have any comments or info they would like to share with me?
I really hope this all makes sense hahaha.
Id be taking all the parts from my driver and swapping.
http://photos.nsmb.com/files/2/0/7/8/7/2012-09-28_01.19.11.jpg
What u guys think?