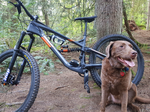 Posts: 84
Joined: March 28, 2012
Hey all,
My fork will sink through 80% of its travel while I am riding the bike in a seated position. I have the right amount of air pressure and get about 25% sag.
It has been sent to the Norco service centre 2x now and will be going back again.
Has anyone else on here had a similar problem with this fork? What about poor service from Norco?
I am frustrated that it will be going back to them a 3rd time for a problem that I think should have been repaired the first time. Also, why are they not testing the fork before shipping it back to the LBS?
"Constant rage: could people f*cking up all the time be to blame?" - The Onion