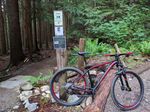 Posts: 27
Joined: June 13, 2017
Looking to purchase sunglasses for riding; but when I go to the local sporting goods store to view what they offer, I didn't know where to begin!
I'm primarily riding around Vancouver, BC so the super dark tinted glasses won't do me much good while in the forests even on a sunny day... 
Anybody mind sharing what glasses you wear while riding?