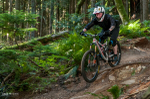 Posts: 2412
Joined: Sept. 5, 2012
Just following up on this. I had a Gore Bike Wear jacket with their 'Active' membrane and a nice surface fabric that is soft to the touch. Really disliked the fit of the jacket and found it stifling in most conditions (no pit-zips) for layered dressing. Generally never wore it as I vastly prefer my Polartec Neoshell jacket.

Had the sleeves removed and everything stitched up nicely to use it as a waterproof vest. Maybe not for everyone but it is now my go-to for any day that has a chance or rain but is not a guaranteed downpour. Layers really well with a merino base layer with or without a long sleeve jersey (weight depending on temperature) and rolls up notably smaller sans sleeves if I want to just throw it in my pack when the sun comes out.
I have considered doing the same , that was my intentions with the Farwest jacket I just bought . But for $65 it fits well as a trail jacket and I am looking at some roadie vests that suit my needs . Just need to find a local source a try them for fit .
In regards to base layers , I was surfing thru the Leatt stuff looking at their 2 piece helmet , and noticed they offer a wind proof jersey that beads up water , so I will be ordering one of those to try this winter season .