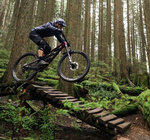 Posts: 634
Joined: June 17, 2016
Posted by: andy-eunson

Posted by: Vikb

I send my forks to Vorsprung as required for damper service based on the recommended service intervals and I do my own lower service.

I'm pretty similar in that I have S4 (formerly Melius, formerly Vorsprung) and do my own lowers service.
I have a confession to make: I've never done the lowers service on any of my forks. I bring them in for a full rebuild every winter and then just ride them for the entire year (which typically ends up being roughly around 100h).