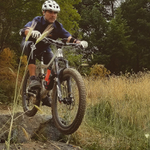 Posts: 2191
Joined: Sept. 10, 2012
Posted by: fartymarty

I'm thinking this is why i'm struggling with the idea of single speeding.  I used to run the Krampus SS and it was great on solo rides or group rides where you weren't pushing it on the downs and could just go at your own pace.  It sucked on the flat in group rides when you had to spin like crazy to keep up.  Steep ups and downs were fine as you were either first to the top or last and pushing.  Weirdly SS on the shore makes sense as it's either up or down.  Our local riding has a bit of everything.

Maybe once winter kicks in I will give it a go as speeds are slower.  Plus i'm quite enjoying the HT geared at the moment.
I appreciate having an "extra" HT is a luxury, but that makes the choice to SS or not a lot easier when you can just grab gears or SS as desired. With external routing and an HG driver it wouldn't be too cumbersome to swap between those options on one HT if space/$ made the second rig unpractical.