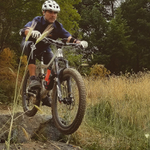 Posts: 2191
Joined: Sept. 10, 2012
Enjoy a rare saddle up lean.
We've had a lot of wildfire smoke in the air here, but thankfully no wildfires super close. I've still had friends rolling through town on their summer Cumberland holidays so the tour guiding continues. When asked about the route on Sunday I told them we'd ride a "1 pack" distance. Once we felt like we had smoked a pack of cigarettes we'd head to the brewery!
It's supposed to rain a bit this week which should help with both the smoke and the extremely dry trails. I'm not sad to see September heading our way.