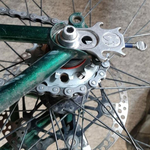 Posts: 622
Joined: Aug. 13, 2017
Posted by: fartymarty
FIrst ride / commute today with a tiny bit of off road - The 50mm stem is too long so I either need to change to a shorter stem (which I have) or move the seat forward on the rails. The Clarks cable disc brakes aren't great but I think the pads need to wear in - I have some semi-metallics that I may have to fit. Worst case is to get some Shimano hydraulic levers and go back to hydraulics. I'm liking the multi positions on the drop bars - especially up on the tops and hoods - less keen on the drops tho but that may take some time. Microshift R10 rear mech seems good - ditto levers - cheap and cheerful. 45mm WTB Riddlers (not shown in piccy) are good - super easy to set up tubeless and seem grippy yet fast enough rolling.
Edit - New piccy added.
Last edited by:
fartymarty
on Feb. 24, 2023, 1:19 a.m., edited 2 times in total.