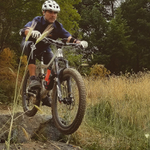 Posts: 2194
Joined: Sept. 10, 2012
Posted by: velocipedestrian

Every time I see this colour I wish my Moxie wasn't grey. Oh well.
My singlespeed is silver and there is something to be said for a subtle understated finish. OTOH if I ever need Search and Rescue help I'll be glad to be riding the pink Moxie.