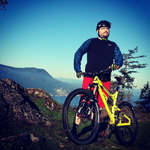 Posts: 9269
Joined: Nov. 19, 2002
Posted by: niels@nsmb.com

Trail sign lean with mountain backdrop. Nice summery evening ride, awesome trail conditions in Cumberland, some corners already starting to get a bit dry & loose.
Yeah, I hit up Off Broadway before the rains set in over the weekend and was surprised at how loose it was in some sections...gunna be a dry summer I think.