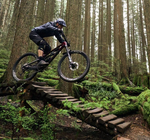 Posts: 756
Joined: June 17, 2016
Posted by: mammal

The last time I was exploring around Forbidden was 2015 I think, and I believe there was a lot of logging slated for that area over the following years. What's that area like these days, with regards to the trail system and riding style?
Yes the area has been logged and some trails lost, others have been rebuilt through the clear cuts or rerouted. Still lots of wooden areas left though. Trailforks isn't up to date so we lost our trail in a clear cut and only found the exit further down, we missed a turn into the rebuilt line somewhere.
Trails are a mix of faster singletrack and 'find your line' rock features of all sizes. I've only been there twice since I moved here last summer so lots more exploring to do.