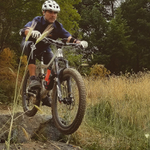 Posts: 1878
Joined: Sept. 10, 2012
Posted by: BC_Nuggets

Do you guys/gals/other use the lock-out function on your forks often?  
Often? Nope. Sometimes for riding to the trails, but honestly I am not sure it does anything useful. I'm not standing up mashing on the commute to the trails so there isn't all that much fork movement on pavement when I am seated.
Once set for excellent trail performance if my hardtail fork damper couldn't be adjusted once I left home I'd be fine with that. I don't really love faffing with stuff during a ride.