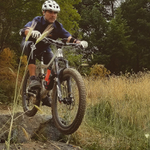 Posts: 2165
Joined: Sept. 10, 2012
2019
I got my custom Daambuilt and figured I'd try riding a "modern" hardtail on the trails from time to time. I didn't have any expectations from it nor did I expect it to displace my FS bikes...but it did over that winter.  Prior to this I had enjoyed riding bikes like my Surly Krampus rigid & hardtail for bikepacking trips. Some of those trips were singletrack based and got a bit shreddy, but every time I had unleashed the Krampus on my local trails I just wasn't loving it. Of course it was the geo not the lack of suspension that was the issue, but my brain was set of a FS bike for "real" mountain biking so I didn't think too deeply about it. 
2020
Riding the Daambuilt through the winter more and more I started thinking "Maybe I'll ride a hardtail as my main MTB through the summer as well" and I got a 2nd hardtail [Cotic BFeMAX] so I could have one setup for gravel/touring and one for shredding. That experiment went pretty well in that I put a lot more KMs on hardtails than my FS bike.
2021
I rode my FS bike 2 or 3 times in 2021. I refined what I wanted out of my trail hardtail and moved on from the Cotic [only after riding it steadily for well over a year]. Moving the parts to a Pipedream Sirius things totally clicked for me and really pushed my riding performance up a whole level in speed and confidence.
2022
Building off what I learned from the Sirius I've built up a Bird Forge so I'd have SS and geared shreddy MTB options in the garage for 2022. I plan to focus on SS, but I'll lean on the geared bike for longer more challenging rides. Especially with other people. As I learn more about the new trail network and push my boundaries I figure I'll follow up geared rides with missions on my SS bike. It's a lot easier to ride SS when you know what's around the next corner. I can see trying a full year SS challenge, but it won't be in 2022. 
For folks that prefer the naked look I've posted a "before" photo of the Bird and an "after". All the best to the NSMB crew and readers for 2022!