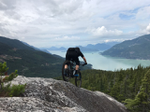 Posts: 106
Joined: Feb. 13, 2018
Posted by: martin

@bushpilot My dream bike and build! If you are in Canada, I'd be curious to know what was the landed cost of the frame itself since I'll probably go the Nicolai/Geometron route for my next build. (You can PM me, if you feel like it).

How are you getting along with the Magura brakes ? I just received a set of MT5s with the Storm HC rotors and performance pads, can't wait to bolt them up to my bike.
I can't remember the all in cost but I'll look it up and PM you. I ordered a frame only from Geometron, along with some mutators, extra springs, extra dropout and a bearing replacement tool around June 2021.
The MT7s are, by far, my favourite brakes to date. I've been using the "race" pads exclusively for the last year or so. I'm sure you'll love the MT5s.