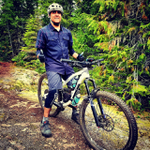 Posts: 567
Joined: Sept. 10, 2012
Posted by: fartymarty

I've got a -2 in my Krampus and wouldn't ride it without. I would go even slacker if someone made one.
What size is your Krampus? The lines look really good and the wheels look nicely balanced. Better than my medium frame. If I had a do over I'd buy a large.
Last edited by:
Vikb
on Jan. 4, 2021, 6:17 a.m., edited 2 times in total.