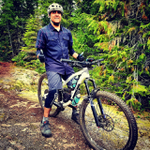 Posts: 844
Joined: Sept. 10, 2012
Wow I've been away from this thread a bit and some sweet bikes have been posted. I got busy with a big bike upgrade project. I moved from Victoria to the Comox Valley. On one hand that was a special kind of hell having to fix up the old house before sale and then fight people from the lower mainland with a lot more $$ than us to buy a house on the island. Anyways that's over now and given our modest needs/tastes we got a house nice enough we can die in!
I'm super excited to really get out and explore the area. Like most people in Coastal BC I've been to Hornby and Cumby, but the occasional visit and living in the area are totally different. I'm keen on human powered adventures these days and there are so many fresh places I can ride/run/skateboard to from my door that I'm feeling some analysis paralysis! Not an awful problem to have.
Anyway back to hardtails. My Cotic BFeMAX experiment has come to an end. I rode the bike exclusively as my trail shredder for a bit over a year. We've had a lot of good times together, but I couldn't go from thinking it was a great bike to thinking "Man I love this bike and I'm never getting rid of it!" I feel that way about my GG Smash and my Daambuilt custom HT as well as my Surly Krampus that's my urban/gravel SS destroyer. Admittedly that's a high bar to hit, but when you have tasted it with other bikes it's not easy to accept less. What pushed me over the edge was I finally got the suspension overhauled on my FS bike and I as sitting on it in my garage and it just felt "perfect" and I remembered all the adventures we'd been on and started thinking about new ones to come. Then I realized I just didn't have that sort of stoke for the Cotic and life was too short so time to move on!
First the good stuff. Dealing with Cotic was great. Considering I was dealing with a company on another continent across an ocean and in a totally different time zone they made things super easy. The fit/finish of the bike was great. I love dealing with people that are totally passionate about their vision for a bike and that's obvious in the BFeMAX. Every aspect has been considered and tweaked to be what they want. I do LOVE the overload of cage mounts and frame space for frame bags. For the longest bike I've ever owned it was fairly easy to get through a lot of slow tech gnar both up and down. We did a lot of snow riding really well. It really was the first hardtail where I didn't hesitate throwing it down any trail I was game to ride. As expected the long/slack bike was very stable at speed and when thrown down something steep. The tubing was such that it had a really nicely balanced ride quality...not tooo stiff and harsh, but not so flexy it was causing issues with staying on line. I also expected it would be the sort of bike I wouldn't want to ride to the trails so I'd do a lot more driving, but that wasn't the case and we had lots of fully human powered adventures together from my door.
When I bought this frame I intentionally pushed the sizing, chain stays and HTA beyond my comfort zone. I am squarely in the recommended sizing from Cotic and it's not out of line with what other folks my size riding these types of bikes would be on. It's just huge compared to my other bikes...even though they have gotten noticeably longer over the years. By deciding to push my boundaries on a production frame I figured I'd save myself the $$ of making a mistake on a custom frame. After a year of riding my thoughts are that I can 100% ride this size bike and it does very well in the slow janky bits I thought it would struggle with. I can see why folks are enamoured with these long/slack rigs. That said I ended up feeling more of a passenger on this frame than on my Daambuilt. The stability came at a cost of some fun. I like riding bike and throwing it around and launching it off features. If I could ride it faster or was a bit taller I'd probably get into that zone with this bike, but my size and my average MTB skills mean I only barely get there. I've ridden some trails where I unlocked the BFeMAX and that kept me going, but with enough time I've come to realize it's just that one step too big for what I enjoy.
One obvious move is to just get the size down. I did think about that and I am sure I would enjoy it more. If money and garage space were infinite I would. What's stopping me is I didn't love the longer CS. I've always loved short CS and read about how long CS have benefits for bigger frames. The bike definitely felt balanced and I don't know that I would have liked shorter CS with that really big front end on the Large Cotic, but I am fairly sure I wouldn't like the same long CS on a shorter version of the BFeMAX if I got a Medium. The other thing is I really want to try SS on the trails. I could live with using a bolt on chain tensioner to SS an existing bike, but I wouldn't spend the money on a new frame and then use a tensioner. That's just to F-Ugkly for me.
I'm either going to SS the Daambuilt and go down to 2 trail bikes or get a SS friendly frame with short CS and sliders to move the Cotic parts to. The simplicity of less bikes to deal with is appealing. Especially after moving all my shit up the island. OTOH the Daambuilt is setup perfectly for long days of exploring unloaded or with camping gear and the new area is ripe for that kind of adventure.
Sorry for the wall of text! I figured there might be a bike geek or two here that would be interested in a wrap up of the Cotic.
I'm not sure if I'll sell the Cotic or keep it. I didn't decorate my man cave in the last house because I kept thinking we wouldn't stay long and somehow that turned into 11 years. So this time around I'm putting stuff on the walls and since I am not into paintings or most other art I figure hanging a couple sweet bike frames and some longboard decks on the walls could be the answer. If anyone was super keen on the Cotic [frame only] I'd part with it for 60% of what I paid. No damage. We only had one significant crash and I made sure to cushion the bike with my body!
Last edited by:
Vikb
on Oct. 7, 2021, 6:02 p.m., edited 1 time in total.