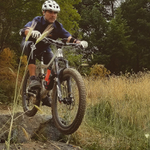 Posts: 1735
Joined: Sept. 10, 2012
Time for a 2021 HT thread? Why not! I've been riding hardtails a lot lately and expect 2021 to see a lot more steel is real action. I was losing my interest in going as fast as possible anyways and enjoying the challenge the lack of rear suspension provides before the pandemic hit. With COVID in the picture going slower and taking fewer chances made even more sense. The hardtail is perfect for that.
There are lots of good reasons to ride hardtails:
- simpler
- less maintenance
- cheaper [in theory]
...but, the main reason I ride them is they are a lot of fun.
Here's to another great year of hardtail shredding. :-)