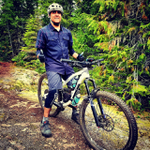 Posts: 694
Joined: Sept. 10, 2012
Posted by: Taz123

where did you order them from?
CRC has GX Eagle chains - they won't ship SRAM to Canada. I have a UK relative. Jenson has NX Eagle chains...they also won't ship SRAM to Canada, but there are cross border services for that situation.
Since I was at it I ordered chains for my Shimano drivetrain bikes and spare brake pads for my Shimano/SRAM brakes as well. The other stuff seems to be available, but who knows what'll go into supply chain crisis mode next? I have lots of tires and other parts so unless I have a bad crash I should be good for 2021.
Last edited by:
Vikb
on Dec. 7, 2020, 9:43 a.m., edited 2 times in total.